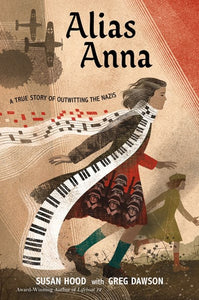 Alias Anna by Hood
A TRUE STORY!
She wouldn't be Zhanna.
She'd use an alias.
A for Anna.
A for alive.
When the Germans invade Ukraine, Zhanna, a young Jewish girl, must leave behind her friends, her freedom, and her promising musical future at the world's top conservatory. With no time to say goodbye, Zhanna, her sister Frina, and their entire family are removed from their home by the Nazis and forced on a long, cold death march. When a guard turns a blind eye, Zhanna flees with nothing more than her musical talent, her beloved sheet music, and her father's final plea: "I don't care what you do. Just live." 
Told in verse by award-winning author Susan Hood with Zhanna's son, Greg Dawson, this is the moving true story of how piano prodigies Zhanna (alias "Anna") and her sister Frina outplayed their pursuers while hiding in plain sight.
Includes extensive back matter with primary sources (original letters), additional information, further reading, and original photographs.