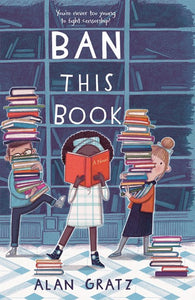 Ban This Book by Gratz
Regular price $0.00 $8.99 Sale
An inspiring tale of a young girl who fights back when her favorite book is banned from her school library—by starting her own illegal locker library!
It all started the day Amy Anne Ollinger tried to check out her favorite book, From the Mixed-Up Files of Mrs. Basil E. Frankweiler, from the school library. Mrs. Jones, the librarian, told her the bad news: her favorite book was banned! Just because a classmate's mom thought the book wasn't appropriate.

Amy Anne fights back by starting a secret banned books library in her locker. The battle of the books escalates when she engineers a campaign to challenge every book in the school library, often under the most ridiculous of pretexts: The Lorax portrays the timber industry in a negative light! The mouse in the room in Goodnight Moon is a health code violation!

Soon, Amy Anne and her friends find themselves on the front lines of a battle over book banning, censorship, and who has the right to decide what they can read. Reminiscent of the classic novel Frindle by Andrew Clements, Ban This Book is a love letter to the written word and its power to give kids a voice.