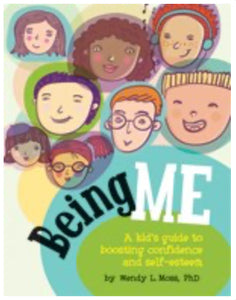 Being Me : A Kid's Guide to Boosting Confidence and Self-Esteem by Moss
Being Me gives kids the tools they need to explore their strengths, feel successful, and be confident in school, with friends, and most importantly, with themselves. 

Loaded with kid-relevant examples, real-life stories, and easy-to-do tips and tricks, this handy guide will empower kids to feel happier and more secure and confident with themselves and with everyone else in their lives. 

Do you like being you? 
Do you have confidence in yourself? 
Do you believe that there are kids who can like you for who you are and want to hang out with you? 
If you answered NO to any of these questions, how about turning those NOs into know-how?