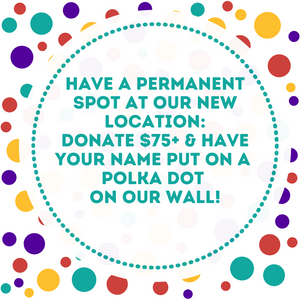 Leave Your "Spot" and Donate a Dot!
Regular price $75.00 Sale
We moved into our new space, 50 NW 1st St., in January of 2023.  Our new space is 3 times larger and has more books, gift items, and space for events. We love our location and know that we will be the gathering space for our community. 
When you walk in you will notice our rainbow polka dots throughout the space. We are selling these dots for our friends, community members, and local businesses to show there support of Maggie Mae's and literature!
Purchase a dot and you get 20 characters to put your family name, a friends name, pets name, local business, or quote.  We are placing names in dots twice a year in January and July.