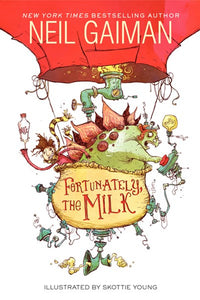 Fortunately, The Milk by Gaiman
A hilarious New York Times bestselling story of time travel and breakfast cereal, expertly told by Newbery Medalist and bestselling author Neil Gaiman and illustrated by Skottie Young

"I bought the milk," said my father. "I walked out of the corner shop, and heard a noise like this: thummthumm. I looked up and saw a huge silver disc hovering in the air above Marshall Road."

"Hullo," I said to myself. "That's not something you see every day. And then something odd happened...."

When a father runs out to buy milk for his children's breakfast cereal, the last thing he expects is to be abducted by aliens. He soon finds himself transported through time and space on an extraordinary adventure, where the fate of the universe depends on him and the milk. But will his children believe his wild story?

Written by New York Times bestselling author Neil Gaiman and illustrated by award-winning artist Skottie Young, Fortunately, the Milk is an unforgettable New York Times bestselling book imbued with the magic of storytelling.