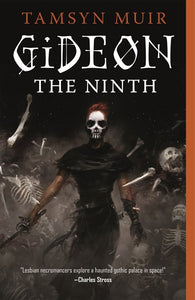 Gideon the Ninth by Muir
Regular price $18.99 Sale
Tamsyn Muir's necromantic science fantasy debut
Gideon the Ninth
is the most fun you'll ever have with a skeleton
"Unlike anything I've ever read. " —V.E. Schwab

"Lesbian necromancers explore a haunted gothic palace in space!" —Charles Stross

Starred reviews from Publishers Weekly, Kirkus, Library Journal, BookPage, and Booklist

The Emperor needs necromancers.

The Ninth Necromancer needs a swordswoman.

Gideon has a sword, some dirty magazines, and no more time for undead bullshit.

Tamsyn Muir's Gideon the Ninth unveils a solar system of swordplay, cut-throat politics, and lesbian necromancers. Her characters leap off the page, as skillfully animated as arcane revenants. The result is a heart-pounding epic science fantasy.