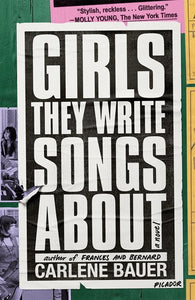 Girls They Write Songs About by Bauer
Regular price $19.00 Sale
"[A] glittering . . . love story about two friends, but [also] something thornier." —Molly Young, The New York Times
A power ballad to female friendship, Girls They Write Songs About is a thrumming, searching novel about the bonds that shape us more than any love affair.

New York, 1997. As the city's gritty edges are being smoothed into something safer and shinier, two aspiring writers meet at a music magazine. Rose—brash and self-possessed—is a staff writer. Charlotte—hesitant, bookish—is an editor. First wary, then slowly admiring, they recognize in each other an insatiable and previously unmatched ambition, and before long, they're inseparable.

Together, Charlotte and Rose find love and lose it; they hit their strides and stumble; they make choices and live past them. But then the steady beats of their sisterhood fall out of sync. They have seen each other through so much—marriage, motherhood, divorce, career glories and catastrophes, a million small but necessary choices. What will it mean if they have to give up dreaming together?

As smart and comic as it is gloriously exuberant, Carlene Bauer's Girls They Write Songs About is a pulsing, wrecking, clear-eyed tale of two women reckoning with the loss of the friendship that defined them, and the countless ways all the women they've known have made them who they are.