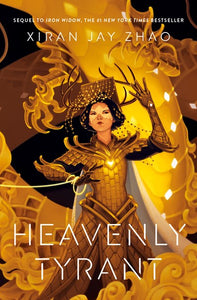 Heavenly Tyrant by Zhao (Releases on 4/30/24)
Regular price $18.99 Sale
Releases on 40/30/24
Zetian, now ruler of Chang'an, must balance dangerous politics with her quest for revenge in the sequel to the #1 New York Times bestseller Iron Widow, a blend of Chinese history and mecha science fiction.

Having reclaimed her homeland from the Hunduns and learned the true nature of the gods, Iron Widow Zetian returns to Chang'an with Emperor-General Qin Zheng to rule together and attempt to deconstruct the corrupt and misogynist system that plagues the country. However, she must not only contend with political unrest and continued Hundun attacks but also with the gods themselves, who hold Li Shimin's life in their hands and seek to control Zetian as their puppet.
 
Dangerous forces seek to undermine Zetian at every turn. Can she enact positive changes as a fair and just ruler, and change the system from within? Or will she be forced to rely on fear and violence, and succumb to her darker instincts, becoming almost as corrupt as Chang'an's previous rulers, in her quest for vengeance? Find out in this highly-anticipated sequel to Iron Widow, a #1 New York Times bestseller!

Series Overview: Zetian seeks revenge for her sister's death and becomes a powerful Chrysalis pilot in this New York Times bestselling YA trilogy which blends Chinese history and mythology with mecha science fiction. Book #3 is scheduled for Spring 2024.