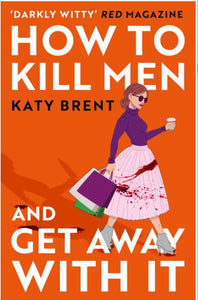 How to Kill Men and Get Away With It by Brent
Regular price $16.99 Sale
For fans of My Sister the Serial Killer and Promising Young Woman, a fiercely addictive and laugh-out-loud debut thriller about fighting the patriarchy, one murder at a time...
Have you ever walked home at night, keys in hand, ready to throw a punch in self-defense? That's how it all started. The killing spree, I mean.
I sort of tripped into this role… Literally. The first one was following me. That guy from the nightclub who wouldn't leave me alone. I pushed him, he stumbled, and fell onto his own broken wine bottle. Oops. It was such a waste of a good house white.
But now I can't seem to stop and nor do I want to… I've got a taste for revenge and quite frankly, I'm killing it.
A deliciously dark, hilariously twisted story about friendship, love, and murder. Fans of My Sister the Serial Killer, Promising Young Woman and Killing Eve will love this wickedly clever novel!