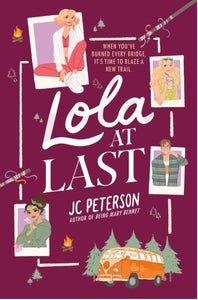 Lola at Last by Peterson
Regular price $19.99 Sale
This Pride and Prejudice–inspired tale—a companion to JC Peterson's Being Mary Bennet—spins a modern Lydia Bennet's life into a tumultuous and hilarious coming-of-age journey, complete with misadventures, misunderstandings, mayhem, and a romance worthy of Darcy and Elizabeth themselves. 
Lola Barnes's summer is not off to the best start.
Fresh off a scandal that tanked her social status, Lola has somehow managed to also alienate her twin sister, lose the friends she thought she had, and put a . . . fiery end to the first party of the summer.
(The boat was barely on fire, for the record—and all the partygoers were just fine.)
Lola is given an ultimatum: jail time, or spend the summer with the nonprofit Hike Like a Girl.
Everyone seems to expect Lola to fail. But even as Lola encounters bugs, blisters, and bears (oh my!), she finds something greater that she'd been missing all along: unexpected friends, a sweet romance, strength she didn't know she had—and herself, Lola, at last.
JC Peterson breathes new life into Pride and Prejudice's troublemaking Lydia Bennet in this unstoppably fun yet startlingly moving journey perfect for fans of Becky Albertalli and Emma Lord—proving that you can always find a new direction, no matter where you're coming from.