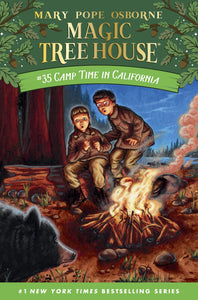 Magic Tree House (#35) Camp Time in California by Osborne
The #1 bestselling Magic Tree House series is ready to whisk you away through time with Jack and Annie--this time to the Yosemite National Park!
Jack and his sister, Annie, must go to California! They must look at nature! They must save the wilderness!
Save it from what, exactly? That's what Jack and Annie must find out when the magic tree house lands in the tallest tree on earth. The nature around them is so grand and peaceful--is it really in danger? Two travelers, two sketchbooks, and one grizzly bear will show Jack and Annie that danger isn't always seen with the eyes. Sometimes it's felt with the heart.
Did you know that there's a Magic Tree House book for every kid?
Magic Tree House: Perfect for readers who are just beginning chapter books
Merlin Missions: More challenging adventures for the experienced reader
Fact Trackers: Nonfiction companions to your favorite Magic Tree House adventures
If you're looking for Merlin Mission #35: 
Night of the New Magicians
, it was renumbered as part of the rebrand in 2017 as Merlin Mission #7.