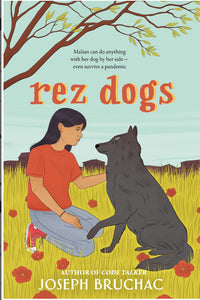 Rez Dogs by Bruchac
Renowned author Joseph Bruchac tells a powerful story of a girl who learns more about her Penacook heritage while sheltering in place with her grandparents during the coronavirus pandemic.

Malian loves spending time with her grandparents at their home on a Wabanaki reservation—she's there for a visit when, suddenly, all travel shuts down. There's a new virus making people sick, and Malian will have to stay with her grandparents for the duration.
Everyone is worried about the pandemic, but Malian knows how to keep her family safe: She protects her grandparents, and they protect her. She doesn't go out to play with friends, she helps her grandparents use video chat, and she listens to and learns from their stories. And when Malsum, one of the dogs living on the rez, shows up at their door, Malian's family knows that he'll protect them too.
Told in verse inspired by oral storytelling, this novel about the COVID-19 pandemic highlights the ways in which Indigenous nations and communities cared for one another through plagues of the past, and how they keep caring for one another today.