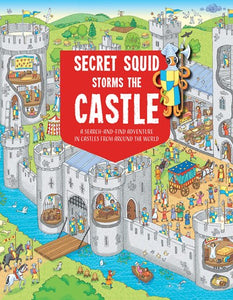 Secret Squid Storms The Castle
Secret Squid Storms the Castle, is the second book in our series of incredibly awesome, fun-packed search-and-find books. Secret squid uses a clever choice of outfits, depending on which castle he is storming, making him difficult to spot. Join Secret Squid as he storms into seven different historical castles from around the world. Secret Squid is cunningly hiding in 70 different places, somewhere in and around the castles but, beware he never looks the same. Spot unique items too, that you will be asked to find. It's a brilliant search-and-find, Secret Squid adventure.
Our favorite Squid shares the knowledge of 7 castles from around the world.
There are 70 different chances to seek out Secret Squid!
Secret Squid learns all about the people he is hiding amongst and who lived there in earlier times.
There is so much more to find than the illusive Secret Squid, how good are you at finding things?
Knights jousting, jesters entertaining and a whole lot more, Secret Squid loves the drama of castle life!
Explore fun-filled, full-color illustrated scenes, packed with tiny, humorous details that bring the world of each castle to life. Included are bite-size facts that unravel the history of the amazing buildings and the people who lived in them! There's so much to discover on each page!