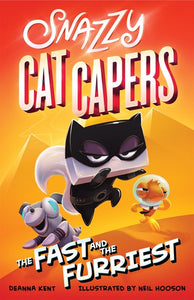 Snazzy Cat Capers (#@) The Fast and the Furriest by Kent
The top cat burglar returns for another heist in the second book of the highly illustrated Snazzy Cat Capers chapter book series.
The world's best cat burglar, Ophelia von Hairball V, and her inventor sidekick Oscar F. Gold have another mission from the Furry Feline Burglary Institute (FFBI). Ophelia must find three pieces of a dangerous artifact that, in the wrong paws, could mean the end of cat antics everywhere. But the Central Canine Intelligence Agency (the FFBI's rival), is hot on her tail—and they want the artifact for themselves. Ophelia will need some dashing disguises and great gadgets to save the world!

Oceans 11 meets My Big Fat Zombie Goldfish in this very witty series full of globetrotting adventures for upper chapter books readers.

The interior is highly illustrated, with several graphic novel-style pages.