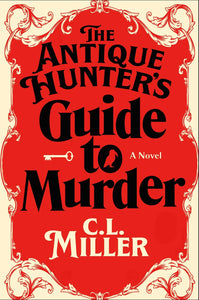 The Antique Hunter's Guide to Murder by Miller (Releases 2/6/24)
Regular price $27.99 Sale
(Releases 2/6/24) In this irresistible and thrilling debut novel, a former antique hunter investigates a suspicious death at an isolated English manor, embroiling her back in the dangerous world of tracking stolen artifacts.
What antique would you kill for?
Freya Lockwood is shocked when she learns that Arthur Crockleford, antiques dealer and her estranged mentor, has died under mysterious circumstances. She has spent the last twenty years avoiding her quaint English hometown, but when she receives a letter from Arthur asking her to investigate—sent just days before his death—Freya has no choice but to return to a life she had sworn to leave behind.
Joining forces with her eccentric Aunt Carole, Freya follows clues and her instincts to an old manor house for an advertised antiques enthusiast's weekend. But not all is as it seems. It's clear to Freya that the antiques are all just poor reproductions and her fellow guests are secretive and menacing. What is going on at this estate and how was Arthur involved? More importantly, can Freya and Carole discover the truth before the killer strikes again?