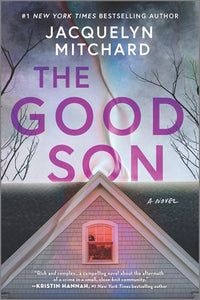 The Good Son by Mitchard
Regular price $19.99 Sale
What do you do when the person you love best becomes unrecognizable to you? For Thea the answer is simple and agonizing: you keep loving him somehow.
Stefan was just seventeen when he went to prison for the murder of his girlfriend, Belinda, a crime he has no memory of committing. Three years later, he's released to a world that refuses to let him move on. Belinda's mother, once Thea's good friend, galvanizes the community to rally against him to protest in her daughter's memory. Neighbors, employers, even some members of Thea's own family turn away.
Meanwhile Thea struggles to understand her son. At times Stefan is still the sweet boy he has always been; at others, he is a young man tormented by guilt and a need to atone. But as his passionate efforts to make amends meet escalating threats, Thea begins to suspect darker forces are at play. If there is so much she never knew about her own son, what other hidden secrets has she yet to uncover—especially the shocking truth about night Belinda died?