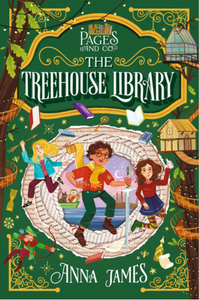 The Treehouse Library (Pages & Co. #5) Releases on 2/28/23
Regular price $17.99 Sale
The fifth magical adventure in the USA Today bestselling Pages & Co. series, starring Milo, the book smuggler. Perfect for fans of Inkheart and The Land of Stories!
Milo Bolt is ready to the be the hero of his own story. With Uncle Horatio trapped in an enchanted sleep by the power-hungry Alchemist, he sets off with his new friend Alessia to find a cure.

As they search for clues, the pair find themselves at the magical treehouse--home of the Botanist, the Alchemist's sworn enemy. In their hunt for the cure, Milo and Alessia must forage in the Secret Garden, challenge Robin Hood, and confront the mighty Jabberwock. Will they find the cure and help Uncle Horatio before it's too late?