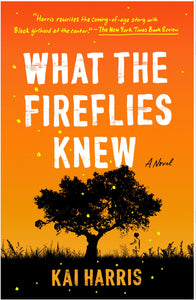 What the Fireflies Knew by Harris
Regular price $17.00 Sale
TARGET CONSUMER: For fans of coming-of-age narratives and of authors such as Jacqueline Woodson, Jesmyn Ward, Asha Lemmie, Abi Daré, Celeste Ng, and Harper Lee.
 
A coming-of-age novel told from the perspective of an eleven-year-old over the course of a single summer, as she tries to make sense of her new life with her estranged grandfather and sister after the death of her father and disappearance of her mother.

After her father dies of an overdose and the debts incurred from his addiction cause the loss of the family home in Detroit, almost-eleven-year-old Kenyatta Bernice (KB) and her teenage sister Nia are sent by their overwhelmed mother to live with their estranged grandfather in Lansing. Over the course of a single, sweltering summer, KB attempts to get her bearings in a world that has turned upside down––a father who is labeled a fiend; a mother whose smile no longer reaches her eyes; a sister, once her best friend, who has crossed the threshold of adolescence and suddenly wants nothing to do with her; a grandfather who is grumpy and silent; the white kids across the street who are friendly, but only sometimes. And all of them are keeping secrets. Pinballing between resentment, abandonment, and loneliness, KB is forced to carve out a different identity for herself and find her own voice. As she examines the jagged pieces of her recently shattered world, she learns that while some truths cut deep, a new life––and a new KB––can be built from the shards.
 
Capturing all the vulnerability, perceptiveness, and inquisitiveness of a young Black girl on the cusp of puberty, Harris's prose perfectly inhabits that hazy space between childhood and adolescence, where everything that was once familiar develops a veneer of strangeness when seen through newer, older eyes. Through KB's disillusionment and subsequent discovery of her own power, What the Fireflies Knew poignantly reveals that heartbreaking but necessary component of growing up––the realization that loved ones can be flawed, sometimes significantly so, and that the perfect family we all dream of looks different up close.  
 
What the Fireflies Knew will appeal to listeners across a wide age spectrum, including fans of Salvage the Bones by Jesmyn Ward, Brown Girl Dreaming by Jacqueline Woodson, and To Kill a Mockingbird by Harper Lee.