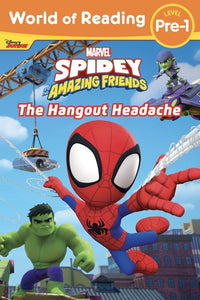 World Of Reading, Pre-Level 1: Spidey And His Amazing Friends: The Hangout Headache by Behling
Hulk's hanging out in WEB-Quarters! What could possibly go wrong?
Spidey invites Hulk to hangout in WEB-Quarters for the day, like any good  friend would do. But it quickly turns into disaster. It turns out that Hulk in WEB-Quarters is worse than a bull in a china shop.
Spidey fans will delight in this hilarious 32-page tale of a hangout gone terribly wrong! With familiar words, simple sentence structures, and clear illustrations, Spidey's latest adventure is perfect for beginnings readers. 
Explore the World of Reading
Disney's World of Reading series provides emerging readers with books that inspire and excite them, featuring characters they love. Each level is designed to help readers navigate the wonderful world of reading at just the right pace.