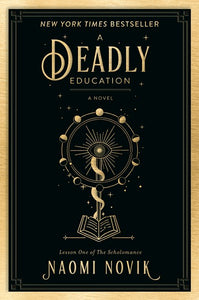 A Deadly Education by Novik
Regular price $18.00 Sale
The

 

New York Times

 

bestselling novel, telling the story of an unwilling dark sorceress who is destined to rewrite the rules of magic.I decided that Orion Lake needed to die after the second time he saved my life.

Every sorcerer has a gift: a talent for transformation, a taste for combat magic. And mastering their gifts in a unique magical academy means a chance of being invited into the enclaves, the world's magical elite.

El Higgins' talent is for mass destruction: Someday, she could level mountains or destroy untold millions with her power, and this dark talent has alienated her from others. She protects herself from the scorn of the other magicians with her mordant wit and defiant spirit. But she also hopes that one day she will join a prestigious enclave, and that means ingratiating herself with the powerful and the privileged. That includes Orion Lake: rich, beloved, and the most celebrated magician of his generation. But what she comes to learn about Orion opens her eyes to some shocking truths about herself, the school, and their world.

It's always been El against the world—but now she may be the only one who can save it. With flawless mastery, Novik creates a school bursting with magic like you've never seen before and a heroine for the ages in El—a character so sharply realized and so richly nuanced that she is sure to live on in hearts and minds for generations to come.