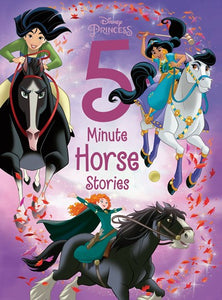 Disney Princess 5 Minute Horse Stories
Regular price $14.99 Sale
Join the Disney Princesses and their noble companions on their greatest adventures yet!
Join Belle as she finds a friend for Philippe, go on a wild ride with Merida, compete in the Polo Games with Jasmine– and more! Each story is the ideal length to be read aloud in five minutes, perfect for bedtime, story time or anytime!

Complete your collection with best-selling, fan favorites!
5-Minute Disney Princess Stories
5-Minute Furry Friends
Disney Bedtime Favorites Storybook Collection
Disney Princess Storybook Collection
5-Minute Snuggle Stories
5-Minute Disney Pixar Stories
5-Minute Star Wars Stories
And much more!