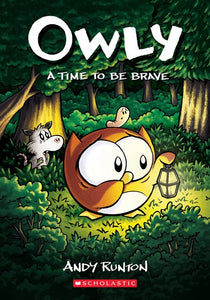 Owly (#4) A Time to Be Brave by Runton
Regular price $10.99 Sale
Owly, the little owl with a heart of gold, returns for another forest adventure in this Eisner-winning series about friendship!
For Owly and Wormy, nothing beats the power of friendship! But fear can be a powerful force, too. There's a new visitor to the forest, an opossum who's misunderstood because of the way he looks. Wormy is afraid of him, and when Owly tries to untangle him from a fence, Possey begins hissing and bares his sharp teeth! He's scared and hurt, and now everyone is afraid! Can the trio be brave and face their fears with just a little courage and a lot of friendship?
Through a unique blend of words and symbols, Owly can be read by the youngest readers, and is a great introduction to graphic novels!