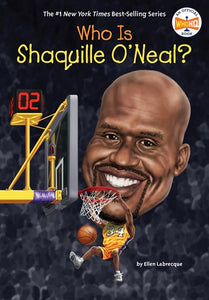 Who is Shaquille O'Neal? by Labrecque
NBA champion, sports analyst, and successful businessman Shaquille O'Neal is a lively and entertaining addition to the #1

 

New York Times

 

Bestselling Series!

Shaquille O'Neal discovered his love of basketball while spending time in an afterschool program called the Boys & Girls Club of America. Standing over six feet tall by the time he turned eleven years old, Shaq--as he is affectionately known--continued to practice the game and stunned the country with his phenomenal skills. From leading his high-school team to its first-ever state title to becoming the first pick in the 1992 NBA draft and going on to win four NBA championships, Shaq proved that he could dominate almost any player. 

 

But the fifteen-time All Star who played for six teams throughout his nineteen-year NBA career isn't just a force on the court, he is also an actor, television host, musician, and businessman who is always ready to crack a joke or bust a dance move.

 

With such a welcoming personality and immense talent, it is easy to see why Shaquille O'Neal is often considered one of the greatest players in NBA history.

Series Overview:

 The #1 

New York Times

 Best-Selling series of illustrated biographies for young readers includes artists, athletes, scientists, and world leaders.

#1

 

New York Times

 

Best-Selling Series!
This book is a perfect read for young athletes who love sports, especially basketball, and are curious about famous basketball players! 
One of our many vibrant titles about athletes, readers can enjoy this title and then read

 

Who Was Kobe Bryant?,

 

Who Is Michael Jordan?,

 

Who Is Pele?,

 

Who Was Babe Ruth?, or

 

Who Are Venus and Serena Williams?

 

to continue learning about sports stars and their paths to success!
There are now more than

 

300 Who HQ titles--with more than

 

60 million in print!--ensuring something to appeal to every reader.
The Who Was? Show, an Emmy-award-winning family variety series based on the #1

 

New York Times

 

Best-Selling Who Was? series, is available to view on Netflix!
Who Was? titles meet teachers' "100 pages of more" in-classroom requirement and with their strong narratives are tremendously appealing to young readers.
The 80 high-quality, black-and-white illustrations in each book--one on almost every page--engage young readers and bring the subjects to life!
WhoHQ.com, Your Headquarters for History, is the place to discover fascinating stories and amazing facts, from historic heroes, trailblazers, and legends to today's pop-culture icons; from extraordinary events to famous landmarks--the ultimate destination for all things Who? What? and Where?